Sliding Patio Doors
Novatech Sliding Patio Doors
Since 1993, Novatech Patio Doors Inc., a specialist in the field, has endeavored to offer the biggest product line and the best performance. Choose from a large product line to suit your needs.
Wide variety of sizes from 5′ to 16′ wide
Double or triple pane tempered safety glass options
White or satin grey internal blinds are available in select models
Heavy duty steel reinforced vinyl frames
Smooth operation with tandem ball bearing rollers
Single or double point locking mechanism
Large glass area to maximize your view
Insect screens are included with all doors
Large selection of frame colors
The Victorian patio door is made from high quality resin and is ideal for new construction. The multi-chambered, all-vinyl frame is easy to install and designed to withstand high winds. The door offers a wide range of security, colour and finishing choices.
---
Versatile and efficient, the 301 patio door is ideal for renovation and construction projects for your home, condo or apartment building. Its minimalist frame and large glass surface provides unobstructed views and places your garden front and centre.
---
550
Combine aesthetics and performance with our 550 patio door. Its double or triple sealed units provide superior energy efficiency and an unmatched level of comfort.
---
Bring character to your space with our high-end patio doors. The impeccable finish of its aluminum cladding is what sets the Element door apart. This door comes in a wide range of colours, so you can match it to your décor at no additional charge. 
---
Urbania stands out for its unparalleled energy performance. This patio door will ensure your comfort thanks to its innovative thermal breaks and weather stripping. With its all-aluminum construction, it is a guarantee of durability and elegance.
---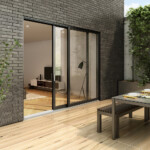 Loft
A patio door that brings the outside in. Its lift mechanism allows for effortless opening of oversized glass panels. Safe, durable, maintenance-free and efficient, Loft will redefine your living space.
Gallery